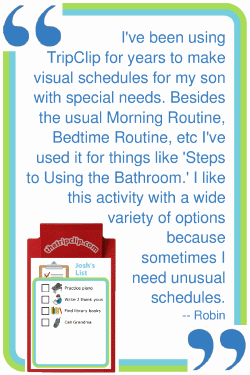 3.67 stars out of 5
5 star:
(2)
4 star:
(0)
3 star:
(0)
2 star:
(0)
1 star:
(1)
Customer Reviews
- -Christine
TERRIBLE WASTE OF $$$$$!!!!

The lists won't save correctly, do not load smoothly, and just are generally a pain. Should have saved the $5 and created the list in word.

The list it is printing is not the list that was most recently updated. Super annoying!!!
Jun 07, 2017
- -Robin
I've been using TripClip for years to make visual schedules for my son with special needs. Besides the usual Morning Routine, Bedtime Routine, etc I've used it for things like 'Steps to Using the Bathroom.'

I like this activity with a wide variety of options because sometimes I need unusual schedules. Today I used it to make a 'What to Do When Mama Has a Nosebleed' sheet. I'm on blood thinners and had a nosebleed that turned into a hemorrhage a week ago and I've been bleeding on and off since then and had to go back to the doctor (though thankfully not the hospital!) The kids and I have been anxious about being alone and my husband is going out of town.

So I made a visual schedule of what they should do (call Daddy if Mama hasn't already, go potty, get dressed, put on shoes, get tablet from charger, be ready to go to doctor's office). We're all feeling a lot better now!
Jul 02, 2016
- -Anonymous
Oct 24, 2013
Leave a Review!
Please log in first.