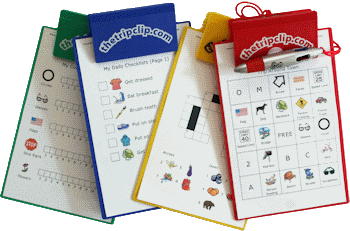 Includes a clipboard, a 4-color pen, and lifetime access to all the website activities.
The Trip Clip® clipboard is 6" x 9" and comes in four color choices: red, blue, green, or yellow. It is made of plastic so there are no sharp edges to pinch little fingers. It's the perfect size to fit a half sheet of paper.
Each click-pen has 4 ink colors: red, blue, green, and black. The choice of pen color determines the color of the rubber grip and the string. The 15" braided rope has a safety break-away. The string can be attached to the clipboard to prevent it from getting lost. The cord can also be easily removed. Velcro lets your child easily attach the pen firmly to the clipboard, and then remove it when they want to use it.
The Trip Clip® website currently has 35 Activities that you can customize and print, and we are always adding more! You can edit and print the Activities, current and future ones, as many times and as often as you like.
Other Products You Might Like:
Price: $22.95
** Now with worldwide shipping!
Shipping Times
All products are shipped via USPS First Class Mail from Washington State. Although no shipping speed is guaranteed, domestic purchases typically arrive in 2-4 business days, depending on how far away you live. International shipping times range from 1-3 weeks.