The Slug Bug Game is excellent for road trips, and even for trips around town! If you worry about how much time your kids spend in the car even on normal days, try taking the One Week Slug Bug Challenge. It's lots of fun, and educational too!
1. Print out a Slug Bug Activity Sheet
2. Make a Prediction
Have each family member who is going to participate make a prediction about which color will be seen the most often, and which will be seen the least often. Write down all the predictions on the back of the page so no one can cheat!
3. Keep it Handy
Keep a hard writing surface and pen or pencil in the car, along with your Slug Bug Activity Sheet. A small clipboard works great: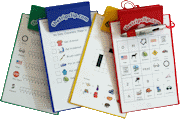 4. Record Data
For one week, watch for slug bugs on the road as you run errands, drive the carpool, go to school, etc. Each time you see a slug bug, fill in another box to record the sighting.
5. Check the Results
At the end of the week, look at the data to find out which color slug bug is the most common, and which is the least common. See which family members guessed correctly!
6. Make it Global
For added fun, ask a friend in another part of the country to do the same thing, and then compare notes. Are the same colors popular in different parts of the country?
Not only will your whole family have fun watching for slug bugs, your kids will learn:
How to make predictions and record data for an experiment. SCIENCE!
Simple graphing skills: MATH!
Geographical differences: SOCIAL STUDIES!
If you have fun with this, or have any added suggestions, email me and tell me about it!