I really love all of the hidden ways there are to teach my kids something when they don't even know they're learning. Finding learning opportunities in everyday things is a big part of why I created The Trip Clip.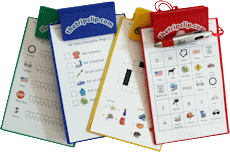 The Trip Clip® has 13 picture lists and 21 fun & educational activities
Each printable activity can be customized to make it harder or easier for your child
Get one activity for $2.95, or all 34 for $29.95
Use the Activity Book feature to print an endless number of activity pages
Get a kid-sized clipboard and 4-color click pen to make it easy to grab it and go.
Try some below for FREE!
Free Learning Activities
Print any of these now to try them with your kids. The lists and BINGO boards can also be used on a mobile device! If you want to make any changes, a purchase will allow you to edit any of these to your liking.
Pre-Made Packets
I've made some bundles of fun & educational activities that I sell on Teachers Pay Teachers. These are ready to print and use right away.