If you have had a problem with a Trip Clip purchase, look through these common problems customers have and some suggested solutions.
If these suggestions don't help you, please email me at molly@thetripclip.com and I will do everything I can to help resolve your problem. If I am unable to resolve it, I will reimburse you for the full amount you paid.
Sometimes after you make a PayPal purchase, it's not clear what to do next, or if you try to log into The Trip Clip® website, you can't. After you complete your purchase on the PayPal site, you should be taken back to The Trip Clip® website and asked to create an account by entering a username and password. Occasionally something goes wrong and you are never prompted to create an account.
Resolution: If this happened to you, check the email you use for your PayPal account. I automatically send an email to the email address associated with PayPal after a purchase is made. That email will have a link to a page that will allow you to create your account and access the Activities you purchased.
NOTE: You only need to use the email link if you did not already create an account after making your purchase.
If you didn't receive an email with a link to use to log in, please email me at molly@thetripclip.com.
My Gift Code Has Already Been Used
Every time someone purchases Activities on my website, I send an email with a Gift Code just in case they don't successfully return to The Trip Clip® website to create an Account. If you've already created an Account by entering your email address and creating a password for the website, you no longer need this Gift Code.
Resolution: Try clicking the Customer Login link at the top of the page and entering the email address and password you entered when you created your Account. You should find that you are now able to use the Activities you purchased. If you receive a "Login Failed" message, try resetting your password.
If you haven't already created an Account but you are still told your Gift Code has already been used, please email me at molly@thetripclip.com.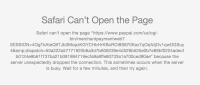 Safari users may see this error message when they try to click the Check Out button in PayPal. This is a known issue with Safari and PayPal. Here are a few ways you can work around this problem:
You can email me at molly@thetripclip.com and tell me what you'd like to purchase. I will send you a PayPal invoice via email that will bypass the browser altogether.
You can try clearing your cache by following the steps outlined on this blog.