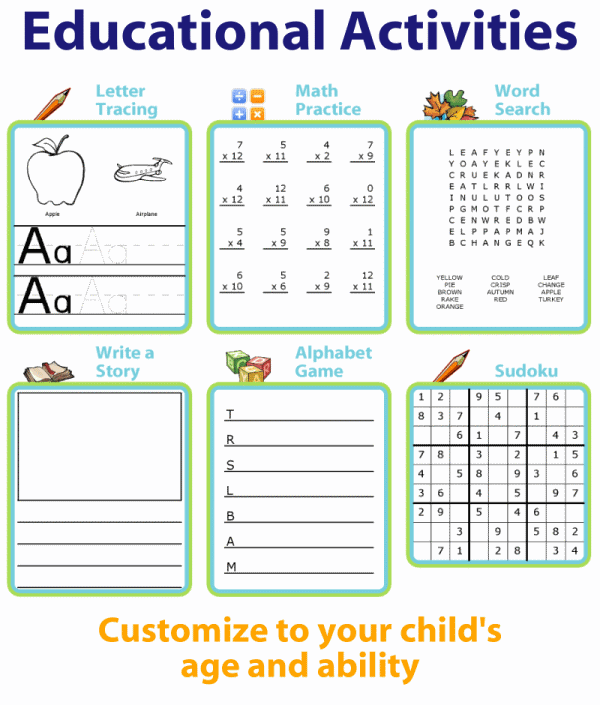 4.63 stars out of 5
5 star:
(26)
4 star:
(7)
3 star:
(1)
2 star:
(0)
1 star:
(1)
Customer Reviews (35)

- All Activities -

Aisha


I have a son with autism and I found this website to be a lifesaver to help me follow his BIP (Behavior Intervention Plan) and his IEP (Individualized Education Program) before and during school closures.

Now that I am servicing dyslexia students virtually, this checklists and schedules will help to play an important role of keeping my students on track.

Sep 08, 2020 - All Activities -

Joanna


My special needs son is doing great with Trip Clip! I used the lists to make a personalized notebook with reusable lists. He now earns his allowance by completing chores and is learning how to clean his room well. We LOVE the lifetime availability of all the lists! I may even use them to keep the rest of the family organized as well.
Jul 22, 2020 - All Activities -

Anika


I cannot say enough about how much I LOVE Trip Clip!!! Printing off and posting morning and evening routines on the wall has given my son responsibility and taken the nagging out of that time. I love how each picture description can be edited to fit what my family needs. The travel activities have made traveling and airplane time pass quickly. Learning activities have made it quick for me to put together some summer review sheets. The best investment for the price I have ever made!
Jun 25, 2020 - Educational Activities -

Anonymous


Jun 25, 2020 - All Activities -

Diana


I have 3 children with special needs and I have the all access lifetime membership. I love the Trip Clip I make custom lists for each of my children for daily activities, hygiene, and school work. These lists help my day run smoothly and avoid meltdowns.
May 08, 2020 - Math Practice -

Nicole S


Love being able to print off these practice sheets and being able to choose what I want my kids to practice on the each time.
Mar 26, 2020 - All Activities -

Anonymous


I absolutely love the whole bundle of activities. I have 3 children ranging in ages from 3-9. There's something for everyone including myself! I'm excited that I didn't need to download anything extra to customize my checklists. Awesome product I know we will continue to use again and again. Great value!!!
Nov 13, 2019 - All Activities -

Melissa


My 6 year old daughter LOVED the visual shopping list. She asked me to make one for her every time we go shopping and didn't want our shopping trip to be over. I love that it kept her engaged, gave her a sense of pride and accomplishment AND reinforced reading skills. Thank you!!
I would love to see some outdoor and indoor scavenger hunt options.
Sep 06, 2019 - Word Search -

Anonymous


Jun 29, 2019 - All Activities -

Megan F


This is such a big help for my family! I love that it is so customizable!
May 22, 2019 - Sudoku -

Linda


I am learning along with my 6 year old grandson the game of Sudoku. Although I had to research how to play the game elsewhere, I found these beginning Sudoku puzzles to be perfect,especially as they are presented in sequence.Number two building upon the skill of one and so on. This makes learning the logic of math fun while aiding in fluency. Thanks again.
Jan 04, 2019 - All Activities -

Anonymous


May 06, 2018 - All Activities -

Sharice


Thanks for offering some great options to help kids or in my case a special needs adult child. I like that I can print what's needed do help him to complete chores and activities that will help him be independent.
Apr 12, 2018 - All Activities -

Dawn


I have been using these activities for a few years now and absolutely love them!!! There is just the right amount of selection in images, and activities.

I started by using the grocery list often and my young children really enjoyed shopping with their lists. Then the chore charts have been used weekly and are soo easy to understand. Now I just printed off pages and pages of activities for our upcoming road trip. They will be excited to try some new activities like suduko, math and crosswords.

This website is very user friendly and soo worth the money. I tell all my friends with children about it and have plans to purchase some for gifts in the near future.

Thank you for all the time you have saved me and fun you have brought my children!!
Feb 28, 2018 - All Activities -

Msjudge8


I just started using TripClip this summer and the have so many ideas t use for my children.

Thank you for organizing this all in one place to organize me and my family.
Dec 09, 2017 - Math Practice -

SRKreations


We LOVE Trip Clip!!! It has helped our family in more way than I ever imagined! Especially with a child who needs extra support with day to day routines. Thank you!!!
Oct 03, 2017 - Letter Tracing -

Anonymous


Sep 04, 2016 - Math Practice -

Claire


My son has just started adding and subtracting at school but numbers seem to be his thing. He can't get enough of them! We went on a long car trip this weekend and he sat in the back doing his maths 'games'. I love that as he gets more confident, we can increase the difficulty to match his level. It will keep him going for years!
Dec 07, 2015 - Word Search -

Anonymous


May 19, 2014 - Word Search -

Jenn


My kids love this activity!
Jun 17, 2013 - Math Practice -

Kerri


Not sure why the 1st review is only 4 stars?? There are endless customizations! You can select from 1-5 top numbers (addition & subtraction), 0's, 0's & 1's, 0's, 1's, and 2's for the bottom numbers... carrying/no carrying, double, triple, etc digits on the bottom. There are endless possibilities for the multiplication & division as well!! This is even highly useful for us adults to be able to brush up on our skills! :) 5 stars ALL THE WAY!!! The same as any of her Trip Clip activities! LOVE them all!! Using this for a kindergartener - and he LOVES it, too!! :)
Jun 01, 2013 - Word Search -

alicia


It is great and my son loves it.
Feb 13, 2013 - Word Search -

Heather


The custom word search is great for studying for spelling tests!
Oct 15, 2012 - Math Practice -

Anonymous


Oct 09, 2012 - Letter Tracing -

Kelly


This has helped my son alot! I love that you can edit and create your own. I did one for his full name and also our address and phone number - love these!!!
Jun 19, 2012 - Letter Tracing -

Anonymous


Many of the pictures are unfamiliar to younger children so it is difficult for them to relate the letter to the word (I have found this problem in a LOT of kids' activities that use stock clip art). Being able to refresh to change the pictures is a help, though!
Apr 27, 2012 - Write a Story -

Sammy


I love to write stories and draw pictures that go along with them!
Mar 30, 2012 - Word Search -

Alissa


I love how easy this is to set up with various levels of difficulty and different words.
Mar 09, 2012 - Word Search -

Heidi


Always a favorite, and I love how you can customize to an individual level.
Feb 11, 2012 - Write a Story -

Heidi


My daughter is very excited about this.
Feb 11, 2012 - Word Search -

Anonymous


Feb 11, 2012 - Word Search -

Malia


This activity makes kids look at words and letters in creative ways... and keeps them busy to boot. LOVE this!
Feb 11, 2012 - Letter Tracing -

Natalie


I like it when my mom makes it so I can trace my name! It is fun.
Feb 05, 2012 - Write a Story -

Anonymous


Feb 05, 2012 - Letter Tracing -

Anonymous


Feb 05, 2012
Leave a Review!
Please log in first.