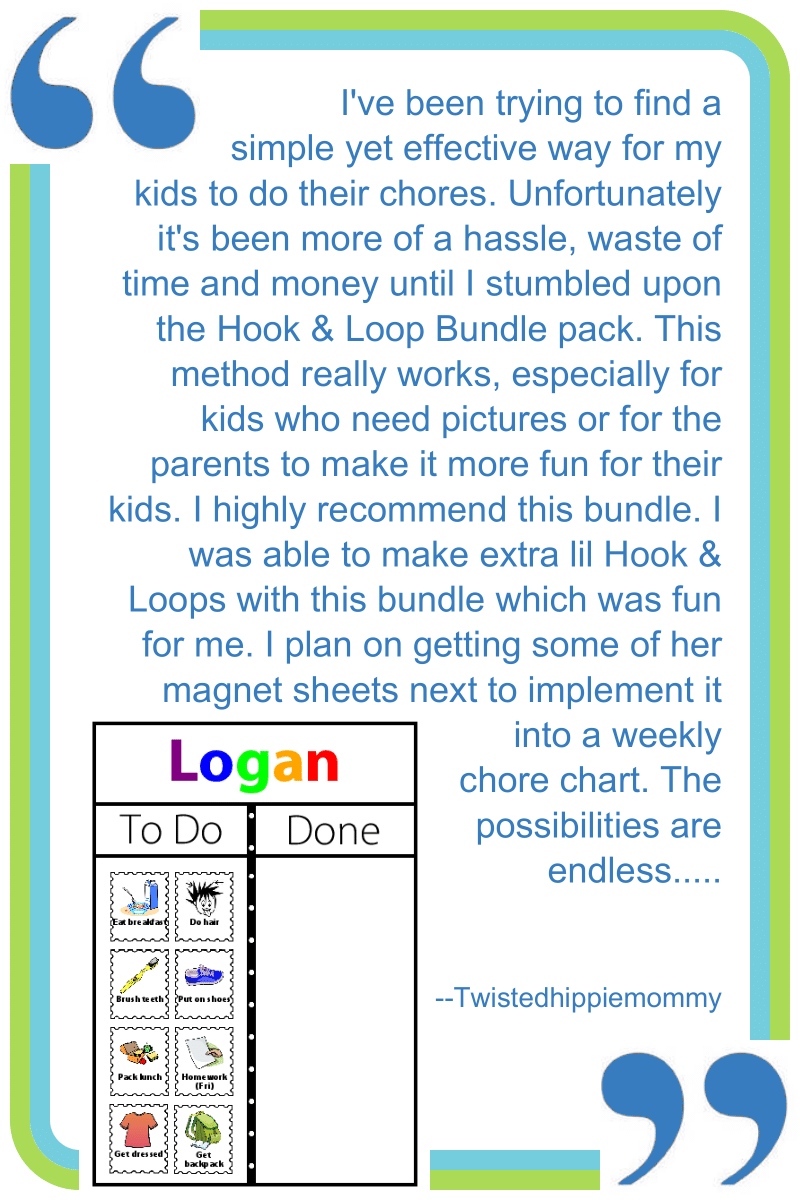 5 stars out of 5
5 star:
(1)
4 star:
(0)
3 star:
(0)
2 star:
(0)
1 star:
(0)
Customer Reviews (1)

Hook & Loop Bundle


Aug 15, 2020 - Twistedhippiemommy
I've been trying to find a simple yet effective way for my kids to do their chores. Unfortunately it's been more of a hassle, waste of time and money until I stumbled upon the Hook & Loop Bundle pack. Back-story...
My son has a disorder called 22Q11.2 Basically means, he has learning delays, muscle tone weakness, speech n cognitive problems along with mild case of Aspergers n other issues. Makes life a lot harder for him, biggest struggle though is not being able to read. His younger sister can read and all the students in his grade last yr could too. His confidence level went out the door, by that point, gave up and didn't want to try, instead expected myself, his teacher, someone else to read for him. This has been an ongoing battle ever since.
I've tried other chore charts, found some off of Amazon. They worked well for my daughter ( at the time she was 7yrs old) but my son never really got into it and would roll his eyes, etc instead. Since school was about to start this yr, I HAD TO FIND SOMETHING and needed it with pictures. I emailed Molly (who was great) asking her a couple of questions. Within a very reasonable amount of time she responded and answered everything I asked. Within 3 business days I received my package. She packaged everything very nice n securely. Once I received my confirmation, I was able to immediately go on the site as advertised and started checking out the pictures she had available. Created my lists and chore charts I wanted to make (which is an amazing option she has provided). I did need some pictures she didn't have available but that wasn't an issue neither. I emailed her once more, told her everything I wanted and she is created those pics too. I am very impressed by the results it's doing with my kids, especially my son. Every morning he gets up and goes straight to his Hook & Loop chore chart. Since we have to have routine, I try not to change things up to much but its good to know he has something he can identify and know what to do next, independently. I'm even in the midst of creating checklists for every room so the kid's can't make the excuse on 'not knowing what to do' or 'forgetting what to do' as my daughter tries to pull, lol. This method really works, especially for kid's who need pictures or for the parents to make it more fun for their kid's. I highly recommend this bundle. I was able to make extra lil Hook & Loops with this bundle which was fun for me. I plan on getting some of her magnet sheets next to implement it into a weekly chore chart. The possibilities are endless.....
Leave a Review!
Please log in first.