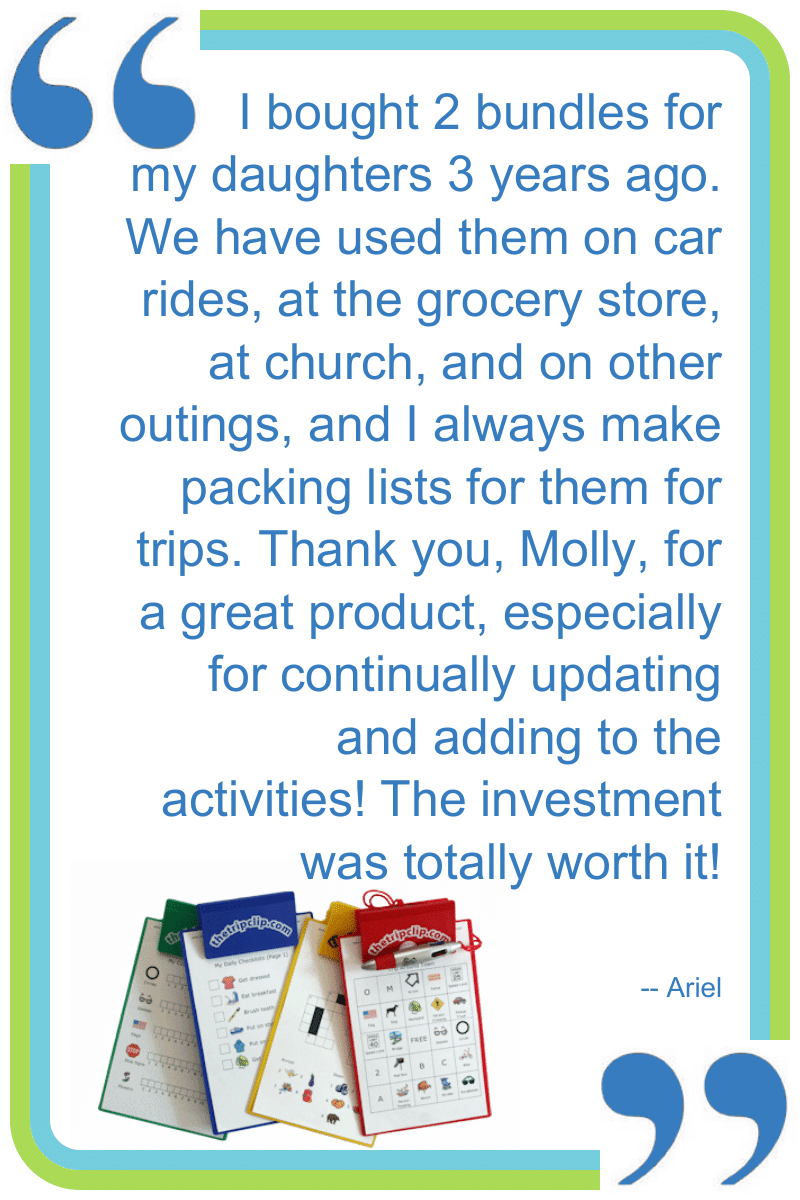 4.88 stars out of 5
5 star:
(15)
4 star:
(2)
3 star:
(0)
2 star:
(0)
1 star:
(0)
Customer Reviews (17)

Clipboard Lists Bundle


Nov 10, 2021 - Amy
The trip clip is a great tool that can be used in so many ways. I found it years ago when my children were young.

Now, I use it for my students in elementary school. It provides excellent visuals and is easy to individualize.

When I needed some specific visuals, they were able to create them! The customer service is unmatched! Thank you!

Clipboard Lists Bundle


Oct 11, 2021 - Mary P
I love tripclip, and have been using these charts for a few years. So nice for my little ones to have a visual picture of each of their daily tasks

Clipboard Lists Bundle


Mar 12, 2020 - Kristine
I absolutely love these lists. Thank you for providing this service! I've made so many lists to help our 4 year old do things on his own!

Clipboard Lists Bundle


Jan 22, 2018 - Jo
These lists are wonderful! I just discovered the 'You can have screen time after you:' list and modified it for my kids. No more begging for screen time until after work and non-screen play are done!

Clipboard All Activities Bundle


May 19, 2016 - Ariel
I bought 2 bundles for my daughters 3 years ago (aged 2 and 3.5 at the time). We have used them on car rides, at the grocery store, at church, and on other outings, and I always make packing lists for them for trips. The girls are now almost 5 and 7, so our purposes for the trip clip and activities have changed a little. I made morning routine lists for Lily to help her get ready for school, and I've made more handwriting and math practice sheets for both of them. Evie (almost 5) had broken her clipboard clip, so I checked the website and Molly sent a new one right away for free! She lost her pen on a trip through Home Depot, but she usually crayons or colored pencils anyway, so I didn't replace that. Thank you, Molly, for a great product, especially for continually updating and adding to the activities! The investment was totally worth it!

Clipboard All Activities Bundle


Jan 31, 2016 - Homeschool mom of 2 in MT
This has been our game changer. We needed a little help with transitioning from public to homeschool. This is exactly what we needed. It was getting a bit too hard, even for myself, to remember what we needed to do in order to be prepared and stay on track. Hand written, ever changing, and never-where-I-needed-them-to-be-lists were failing us. I have made Routines for each school day and put them into plastic page protectors right alongside their Morning, Lunch, Supper, and Bedtime Routines. No more crazy eyed mom. No more wandering and wondering children (ages 7.5 and 9). Just productivity...so long they can find their folders! ;-) Thanks Trip clip for adding a ton more options to your website within this last year!

Clipboard All Activities Bundle


Jan 24, 2016 - Super Awesome Happy home!
I have 4 children and a few of them struggle with staying on task. This stops the constant nagging from me. I find the visual stimulus engages participation and allowing me to edit the words has given me full flexibility over this easy to use list and website as a whole.
I am a customer from Australia and found the delivery very smooth.
We also love the checklist for packing when we go away, it saves me time and sanity!
Thank you for making this tool so very affordable as its worth a hounded times more due to the features mentioned already.
One addition i would like to see is a reward path/chart.

Oh! The workbooks and ability to add an activity to the blank page is brilliant.


Clipboard One Activity Bundle


Jun 22, 2015 - Anonymous
The grocery list is perfect for my 3.5 year old. He LOVES it. I look forward to using other activities on car trips this summer. The creator is not only full of great ideas, she is excellent at 'customer service'. She replies to questions immediately and is very helpful.

Clipboard Lists Bundle


Sep 24, 2013 - Anonymous
Very helpful with organizing school schedule and activities for young children.

Clipboard Lists Bundle


Jul 22, 2013 - Olga
I absolutely love how easy it is to make and edit lists. There are activities on here that I didn't even think to add! Before I knew about this site, I was planning on making my own but this is just perfect!!

Clipboard All Activities Bundle


May 21, 2013 - Kerri
The boys (6&4) absolutely LOVED their list!! They each had a list! I only did fruit & veggies on their 1st one, but they just raced to fill bags & the cart! :) Showed it off to everyone in the store! The clerks thought it was pretty neat! And they learned how to pick 'nice' and 'ripe' fruit & veggies! :) Now if only they had the kid-sized carts! Super easy to change the labels on the items (once logged in!), so a massive high 5 from this happy mommy! :) Keep the ideas coming! Can't wait for their clipboards to arrive! And the mazes, etc will be a HUGE hit! :)

Clipboard All Activities Bundle


Apr 14, 2013 - Carrie


Clipboard All Activities Bundle


Jan 23, 2013 - Anonymous


Clipboard One Activity Bundle


Jan 07, 2013 - Bonnie
This is a perfect teaching tool for my 2-year old. We bring along her own shopping cart and she has to find and count the items on the list!

Clipboard One Activity Bundle


Oct 13, 2012 - Nicole - The Activity Mom
LOVE this game! It was fun to use the different colors of the pen to draw and sink ships. A perfect game to play on the go and sneak in a little math practice!

Clipboard One Activity Bundle


Jun 19, 2012 - Kelly
This has helped my son alot! I love that you can edit and create your own. I did one for his full name and also our address and phone number - love these!!!

Clipboard All Activities Bundle


Feb 08, 2012 - Anonymous

Leave a Review!
Please log in first.