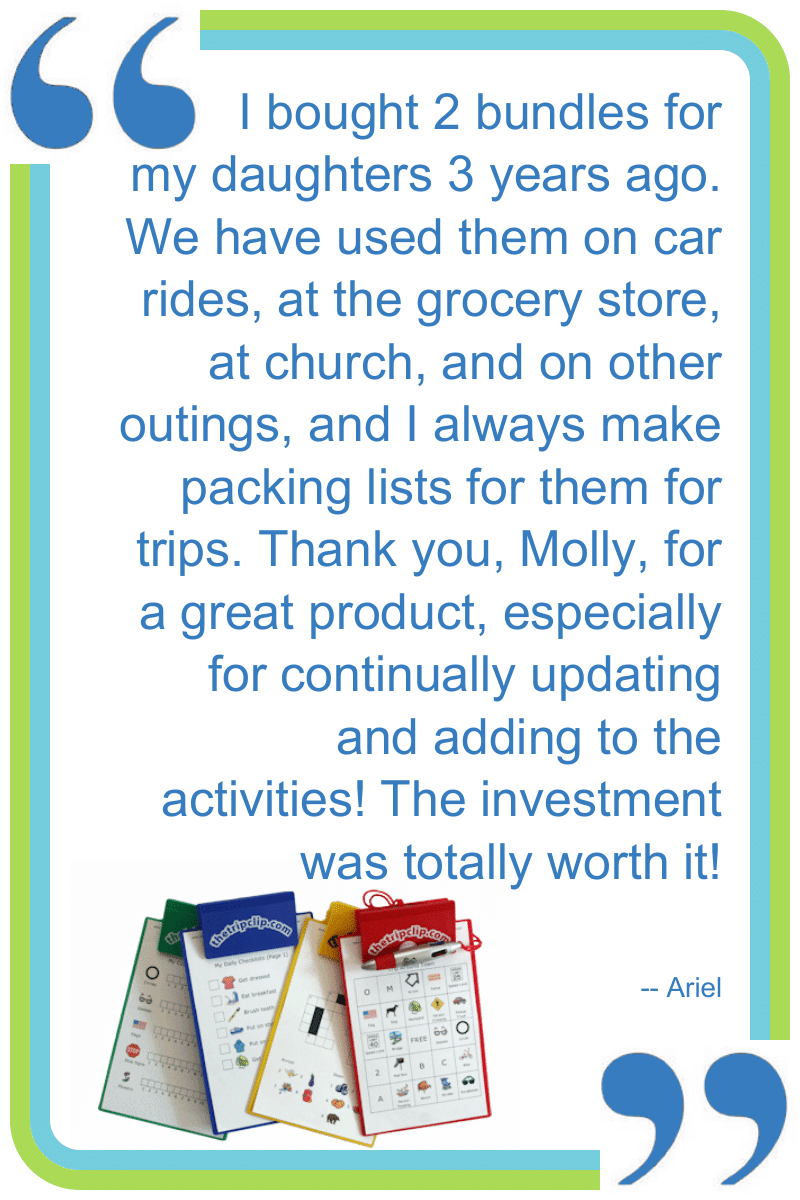 4.67 stars out of 5
5 star:
(4)
4 star:
(2)
3 star:
(0)
2 star:
(0)
1 star:
(0)
Customer Reviews (6)

Clipboard Bundle


Nov 10, 2021 - Amy
The trip clip is a great tool that can be used in so many ways. I found it years ago when my children were young.

Now, I use it for my students in elementary school. It provides excellent visuals and is easy to individualize.

When I needed some specific visuals, they were able to create them! The customer service is unmatched! Thank you!

Clipboard Bundle


Oct 11, 2021 - Mary P
I love tripclip, and have been using these charts for a few years. So nice for my little ones to have a visual picture of each of their daily tasks

Clipboard Bundle


May 19, 2016 - Ariel
I bought 2 bundles for my daughters 3 years ago (aged 2 and 3.5 at the time). We have used them on car rides, at the grocery store, at church, and on other outings, and I always make packing lists for them for trips. The girls are now almost 5 and 7, so our purposes for the trip clip and activities have changed a little. I made morning routine lists for Lily to help her get ready for school, and I've made more handwriting and math practice sheets for both of them. Evie (almost 5) had broken her clipboard clip, so I checked the website and Molly sent a new one right away for free! She lost her pen on a trip through Home Depot, but she usually crayons or colored pencils anyway, so I didn't replace that. Thank you, Molly, for a great product, especially for continually updating and adding to the activities! The investment was totally worth it!

Clipboard Bundle


Jan 24, 2016 - Super Awesome Happy home!
I have 4 children and a few of them struggle with staying on task. This stops the constant nagging from me. I find the visual stimulus engages participation and allowing me to edit the words has given me full flexibility over this easy to use list and website as a whole.
I am a customer from Australia and found the delivery very smooth.
We also love the checklist for packing when we go away, it saves me time and sanity!
Thank you for making this tool so very affordable as its worth a hounded times more due to the features mentioned already.
One addition i would like to see is a reward path/chart.

Oh! The workbooks and ability to add an activity to the blank page is brilliant.


Clipboard Bundle


Sep 24, 2013 - Anonymous
Very helpful with organizing school schedule and activities for young children.

Clipboard Bundle


Jul 22, 2013 - Olga
I absolutely love how easy it is to make and edit lists. There are activities on here that I didn't even think to add! Before I knew about this site, I was planning on making my own but this is just perfect!!
Leave a Review!
Please log in first.