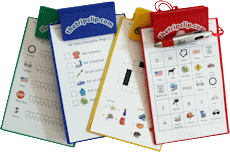 The grocery store is an incredibly rich place for teaching your kids all sorts of things. And given how often I end up at the store with my kids, I figure I might as well take advantage of all of those learning opportunities! I also find that if I'm focused on engaging the kids, instead of just trying to get through the store as quickly as possible, the whole trip is much better for all of us – me included!
The Trip Clip® lets you make your own picture grocery list. Choose from over 300 food and grocery pictures and change the text to anything you want, including using foreign languages! You can create, edit, and save as many different grocery lists as you want. Every list can be printed or used interactively on a mobile device.
The Trip Clip activities can be customized in many ways. Try these free grocery shopping activities in other languages, or make your own!