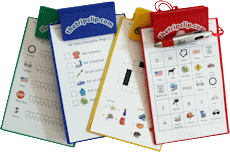 If your kids spend a lot of time on the sidelines of their siblings sporting events or dance rehearsals, you can take advantage of all of that time with these activities your kids will enjoy and that offer good learning opportunities too.
Bingo on the Sidelines
Each of these Bingo boards helps kids recognize letters, numbers, and symbols, read simple words, and learn more about the activity they're watching.
Count On It on the Sidelines
Dragging your kids to a sibling's activity turns into a science experiment and graphing practice with this simple counting game. Make predictions ahead of time for which item you'll see most often!
More Activities