Make a Velcro List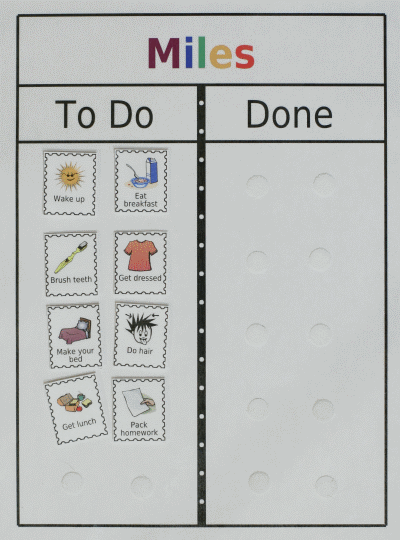 Step by Step Instructions
Traci - Feb 17, 2014
I know your product was not originally intended for special needs kids, but I just want to say how much I love having it at my fingertips for use with children that are on the Autism spectrum. I've made many visual schedules/checklists by slightly modifying your product from its original intended use.
I used the weekly chore chart option to print all the pictures I needed for [my daughter's] daily schedule, but I wanted movable pieces. Once I printed, I cut the pictures apart to make individual pieces, laminated them, and attached them with velcro. Many of the pieces I used the custom feature to make them more specific.
Dawn - Feb 24, 2014
I have recently come across your site via Pinterest. I have been struggling with my 11 year son (who has autism and adhd) and finding a way to keep him focused and become more self-motivated. I purchased your chore chart, but the format doesn't work for our unique set-up. My son works best with a Velcro system that allows for the chores to be physically removed as they are done so that he can see the shrinking list of duties and feel a sense of time passing. I have printed the chores I need and cut them into squares, laminated them and use them on a changeable schedule that we find works for my son.
...your site has made it so easy to make a chart for my son, which changes daily, without the visual overload of having an entire week on one form brings (not to mention the ink drain from constantly reprinting a one-day-at-a-time schedule.). Thank you very much for all the work you have put into this site, it is a wonderful resource and I can't wait to use the grocery list as we continue to try and teach my son important life skills.
I have been very happy to find that The Trip Clip has been helpful to special needs families.  Here are just a few of the kind words they have sent me over the years!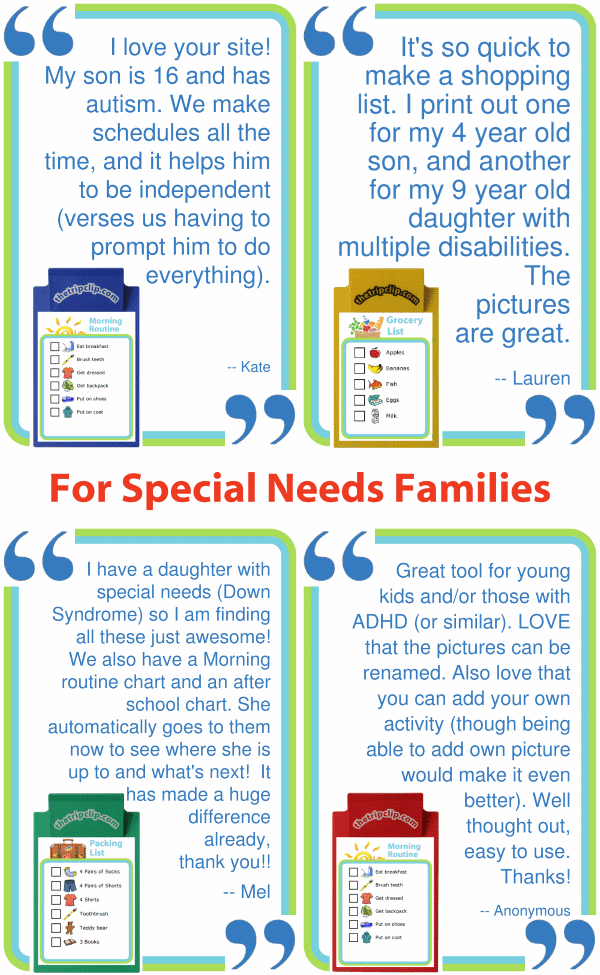 Here are some of The Trip Clip® Activities special needs families have found helpful:
| | |
| --- | --- |
| | A picture checklist can work wonders for special needs kids. It helps them stay focused, visualize what they have to do, and not get overwhelmed. Try a Morning Routine, or an After School Checklist. |
| | |
| --- | --- |
| | A social story can really help a special needs child know what to expect and better handle the unexpected. With over 1000 images to choose from, The Trip Clip can help you create a social story for any occasion. Try it now! |
| | |
| --- | --- |
| | This visual school schedule is great for home schoolers and for kids with Autism, Asperger's, ADHD, and other special needs. It helps them know what to expect from their school day. You can make your own school schedule. |
| | |
| --- | --- |
| | Picture checklist so kids can pack for your next trip Try it now! |