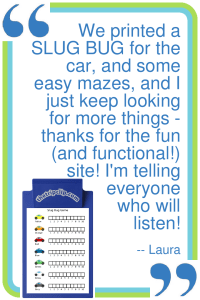 4.55 stars out of 5
5 star:
(47)
4 star:
(7)
3 star:
(1)
2 star:
(2)
1 star:
(3)
Customer Reviews (60)

Bingo


Nov 03, 2022 - Anonymous
Airport Bingo has been a huge hit with my kids. It's always the first activity on their clipboards for every trip, and they pull it out as soon as we get to the gate and start searching for all the items on their boards. It's great that it's different every time we travel.

Design a License Plate


Oct 22, 2022 - Anonymous
Molly has added the ability to add text to the license plate. So cute! My kids loved coloring in their names.

Word Search


Oct 18, 2022 - Anonymous


Design a License Plate


Feb 19, 2022 - Anonymous


All Activities


Jun 25, 2020 - Anika
I cannot say enough about how much I LOVE Trip Clip!!! Printing off and posting morning and evening routines on the wall has given my son responsibility and taken the nagging out of that time. I love how each picture description can be edited to fit what my family needs. The travel activities have made traveling and airplane time pass quickly. Learning activities have made it quick for me to put together some summer review sheets. The best investment for the price I have ever made!

Educational Activities


Jun 25, 2020 - Anonymous


Math Practice


Mar 26, 2020 - Nicole S
Love being able to print off these practice sheets and being able to choose what I want my kids to practice on the each time.

All Activities


Nov 22, 2019 - Kasie
Making lists for my children is so easy with The Trip Clip! I was really happy to see that I could use the mobile option. I use an iPad for my kids to mark off on their lists and they carry it around as they complete their tasks. So far it has been a lifesaver for me!! My kids are empowered to get themselves ready for school, finish chores after school, and get ready for bed. The website also has great printouts for creating your own activity books! I%u2019m excited to make some for our upcoming trip!

Word Search


Jun 29, 2019 - Anonymous


All Activities


May 22, 2019 - Megan F
This is such a big help for my family! I love that it is so customizable!

Sudoku


Jan 04, 2019 - Linda
I am learning along with my 6 year old grandson the game of Sudoku. Although I had to research how to play the game elsewhere, I found these beginning Sudoku puzzles to be perfect,especially as they are presented in sequence.Number two building upon the skill of one and so on. This makes learning the logic of math fun while aiding in fluency. Thanks again.

All Activities


May 06, 2018 - Anonymous


All Activities


Feb 28, 2018 - Dawn
I have been using these activities for a few years now and absolutely love them!!! There is just the right amount of selection in images, and activities.

I started by using the grocery list often and my young children really enjoyed shopping with their lists. Then the chore charts have been used weekly and are soo easy to understand. Now I just printed off pages and pages of activities for our upcoming road trip. They will be excited to try some new activities like suduko, math and crosswords.

This website is very user friendly and soo worth the money. I tell all my friends with children about it and have plans to purchase some for gifts in the near future.

Thank you for all the time you have saved me and fun you have brought my children!!

All Activities


Dec 09, 2017 - Msjudge8
I just started using TripClip this summer and the have so many ideas t use for my children.

Thank you for organizing this all in one place to organize me and my family.

All Activities


Oct 03, 2017 - SRKreations
We LOVE Trip Clip!!! It has helped our family in more way than I ever imagined! Especially with a child who needs extra support with day to day routines. Thank you!!!

Design a License Plate


Aug 25, 2017 - Anonymous


Letter Tracing


Sep 04, 2016 - Anonymous


All Activities


Jan 24, 2016 - Super Awesome Happy home!
I have 4 children and a few of them struggle with staying on task. This stops the constant nagging from me. I find the visual stimulus engages participation and allowing me to edit the words has given me full flexibility over this easy to use list and website as a whole. I am a customer from Australia and found the delivery very smooth. We also love the checklist for packing when we go away, it saves me time and sanity! Thank you for making this tool so very affordable as its worth a hounded times more due to the features mentioned already. One addition i would like to see is a reward path/chart. Oh! The workbooks and ability to add an activity to the blank page is brilliant.

Math Practice


Dec 07, 2015 - Claire
My son has just started adding and subtracting at school but numbers seem to be his thing. He can't get enough of them! We went on a long car trip this weekend and he sat in the back doing his maths 'games'. I love that as he gets more confident, we can increase the difficulty to match his level. It will keep him going for years!

Design a License Plate


Sep 29, 2014 - Kerri
The boys love this one, too! They have fun drawing letters, numbers & even pics on them! They just have fun & it's something different to keep them busy on long car trips! :)

Word Search


May 19, 2014 - Anonymous


Coloring Pages


Apr 26, 2014 - Joanna
These are simple but fun for my 4- and 6- year old to color. These pictures, plus other activities from this site, and a box of crayons, kept my kids amused for several hours while I was working at my office today. Awesome!

Mazes


Apr 26, 2014 - Joanna
My kids love these mazes! I print Medium mazes for my 4-year old and Extreme mazes for my 6-yr old. Very fun!

Bingo


Apr 26, 2014 - Joanna
We went on a 4-hour road trip last week. Printed two bingo cards for each family member (except my husband, who was driving!). I gave us all copies of the same card so that we could work together as a team to find the items (instead of kids fighting!). I love that you can replace individual items on the card (I replaced a few that I knew we were unlikely to encounter). We probably used up a good two hours of the 4-hour trip. AWESOME!

Design a License Plate


Nov 13, 2013 - Pat
Waste of money. I thought you would be able to add text to it before you print it off. I would recommend just photo shopping a sample plate off the web.

Bingo


Jul 20, 2013 - Anonymous


Driving Directions


Jul 12, 2013 - Julie
My daughter loves to navigate, I make one for all our frequent trips

Word Search


Jun 17, 2013 - Jenn
My kids love this activity!

Math Practice


Jun 01, 2013 - Kerri
Not sure why the 1st review is only 4 stars?? There are endless customizations! You can select from 1-5 top numbers (addition & subtraction), 0's, 0's & 1's, 0's, 1's, and 2's for the bottom numbers... carrying/no carrying, double, triple, etc digits on the bottom. There are endless possibilities for the multiplication & division as well!! This is even highly useful for us adults to be able to brush up on our skills! :) 5 stars ALL THE WAY!!! The same as any of her Trip Clip activities! LOVE them all!! Using this for a kindergartener - and he LOVES it, too!! :)

Mazes


May 31, 2013 - Kerri
Our boys (6&4) LOVE mazes!! Love that they are so diverse in their levels of difficulty and that they're different each time! :)

Crossword Puzzles


May 31, 2013 - Kerri
6-yr-old loved this one! Short on time, I hit 'workbooks' and selected easy ones of them all! Had no idea that crosswords could be made with just the first letter missing!! Super happy!! Thanks for such cool, customizable activities! And the clipboards are just amazing sturdy! This is going to be our new travel staple! :) Thanks!!

Mazes


May 03, 2013 - Anonymous
My son loves these! Thanks!

Count On It


Apr 14, 2013 - Carrie
This is probably my kids' favorite!!!

Bingo


Apr 14, 2013 - Carrie
One of our favorite Trip Clip games! This keeps my boys occupied for long car rides.

Mazes


Apr 14, 2013 - Carrie
Keeps them busy for a long time! So fun!


Mazes


Mar 27, 2013 - Anonymous
i love mazes

Dots and Boxes


Feb 22, 2013 - alicia
my son has motor skill issue and this is great for him. I love it and thankyou.

Word Search


Feb 13, 2013 - alicia
It is great and my son loves it.

Mazes


Jan 23, 2013 - Anonymous


Word Search


Oct 15, 2012 - Heather
The custom word search is great for studying for spelling tests!

Battleship


Oct 13, 2012 - Nicole - The Activity Mom
LOVE this game! It was fun to use the different colors of the pen to draw and sink ships. A perfect game to play on the go and sneak in a little math practice!

Math Practice


Oct 09, 2012 - Anonymous


Letter Tracing


Jun 19, 2012 - Kelly
This has helped my son alot! I love that you can edit and create your own. I did one for his full name and also our address and phone number - love these!!!

Drawing Clips


May 29, 2012 - Anonymous


Letter Tracing


Apr 27, 2012 - Anonymous
Many of the pictures are unfamiliar to younger children so it is difficult for them to relate the letter to the word (I have found this problem in a LOT of kids' activities that use stock clip art). Being able to refresh to change the pictures is a help, though!

Driving Directions


Apr 14, 2012 - Heather
This is our fav. We go on roadtrips most every weekend during the summer. Playing 'Driving Directions' is much more fun for Mom than 'Are we there yet?'!

Hangman


Apr 02, 2012 - Misty
My 8-year-old has really been enjoying running around with his tripclip and enlisting a sibling to play hangman with him - keeps 2 kids busy at a time! Yay!

Write a Story


Mar 30, 2012 - Sammy
I love to write stories and draw pictures that go along with them!

Word Search


Mar 09, 2012 - Alissa
I love how easy this is to set up with various levels of difficulty and different words.

Coloring Pages


Mar 09, 2012 - Anonymous


Doodle


Mar 09, 2012 - Anonymous


Mazes


Mar 09, 2012 - Alissa
I like how you can print a different maze each time really easily.


Coloring Pages


Feb 11, 2012 - Heidi
Fun pictures. My daughter loves picking which ones she wants to color.

Word Search


Feb 11, 2012 - Anonymous


Bingo


Feb 11, 2012 - Malia
BINGO is fun and keeps the kiddos engaged. I really like to use this activity when we have a long car ride. It keeps my kid's brains working and cuts down on the screen time. It's awesome!

Mazes


Feb 08, 2012 - Anonymous
The levels of difficulty make this a great activity for all ages!

Battleship


Feb 06, 2012 - Marypat
Back to the roots of the battleship game, playing it on paper. Great fun during airplane flights, provided you slant your Trip Clip so you can't see your opponent's board. Better than the boxed toy version, you can play this with more people and have a three-way sea battle! Kaboom!

Crossword Puzzles


Feb 05, 2012 - Sammy
It's cool. I like it because it is fun to look at the pictures, and I can figure out the first letter.

Letter Tracing


Feb 05, 2012 - Anonymous


All Activities


Dec 31, 1969 - Ariel
I bought 2 bundles for my daughters 3 years ago (aged 2 and 3.5 at the time). We have used them on car rides, at the grocery store, at church, and on other outings, and I always make packing lists for them for trips. The girls are now almost 5 and 7, so our purposes for the trip clip and activities have changed a little. I made morning routine lists for Lily to help her get ready for school, and I've made more handwriting and math practice sheets for both of them. Evie (almost 5) had broken her clipboard clip, so I checked the website and Molly sent a new one right away for free! She lost her pen on a trip through Home Depot, but she usually crayons or colored pencils anyway, so I didn't replace that. Thank you, Molly, for a great product, especially for continually updating and adding to the activities! The investment was totally worth it!
Leave a Review!
Please log in first.