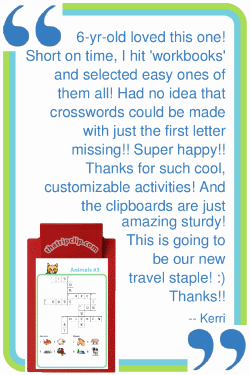 5 stars out of 5
5 star:
(2)
4 star:
(0)
3 star:
(0)
2 star:
(0)
1 star:
(0)
Customer Reviews (2)

Crossword Puzzles


May 31, 2013 - Kerri
6-yr-old loved this one! Short on time, I hit 'workbooks' and selected easy ones of them all! Had no idea that crosswords could be made with just the first letter missing!! Super happy!! Thanks for such cool, customizable activities! And the clipboards are just amazing sturdy! This is going to be our new travel staple! :) Thanks!!

Crossword Puzzles


Feb 05, 2012 - Sammy
It's cool. I like it because it is fun to look at the pictures, and I can figure out the first letter.
Leave a Review!
Please log in first.