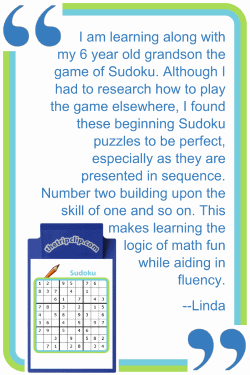 5 stars out of 5
5 star:
(1)
4 star:
(0)
3 star:
(0)
2 star:
(0)
1 star:
(0)
Customer Reviews (1)

Sudoku


Jan 04, 2019 - Linda
I am learning along with my 6 year old grandson the game of Sudoku. Although I had to research how to play the game elsewhere, I found these beginning Sudoku puzzles to be perfect,especially as they are presented in sequence.Number two building upon the skill of one and so on. This makes learning the logic of math fun while aiding in fluency. Thanks again.
Leave a Review!
Please log in first.