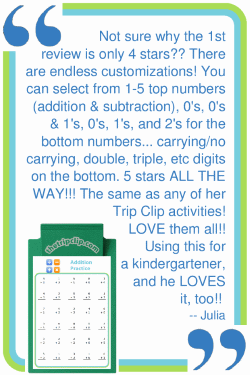 4.8 stars out of 5
5 star:
(4)
4 star:
(1)
3 star:
(0)
2 star:
(0)
1 star:
(0)
Customer Reviews (5)

Math Practice


Mar 26, 2020 - Nicole S
Love being able to print off these practice sheets and being able to choose what I want my kids to practice on the each time.

Math Practice


Oct 03, 2017 - SRKreations
We LOVE Trip Clip!!! It has helped our family in more way than I ever imagined! Especially with a child who needs extra support with day to day routines. Thank you!!!

Math Practice


Dec 07, 2015 - Claire
My son has just started adding and subtracting at school but numbers seem to be his thing. He can't get enough of them! We went on a long car trip this weekend and he sat in the back doing his maths 'games'. I love that as he gets more confident, we can increase the difficulty to match his level. It will keep him going for years!

Math Practice


Jun 01, 2013 - Kerri
Not sure why the 1st review is only 4 stars?? There are endless customizations! You can select from 1-5 top numbers (addition & subtraction), 0's, 0's & 1's, 0's, 1's, and 2's for the bottom numbers... carrying/no carrying, double, triple, etc digits on the bottom. There are endless possibilities for the multiplication & division as well!! This is even highly useful for us adults to be able to brush up on our skills! :) 5 stars ALL THE WAY!!! The same as any of her Trip Clip activities! LOVE them all!! Using this for a kindergartener - and he LOVES it, too!! :)

Math Practice


Oct 09, 2012 - Anonymous

Leave a Review!
Please log in first.