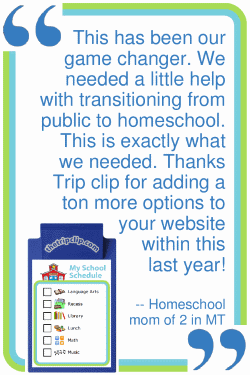 5 stars out of 5
5 star:
(3)
4 star:
(0)
3 star:
(0)
2 star:
(0)
1 star:
(0)
Customer Reviews (3)

- -

Homeschool mom of 2 in MT


This has been our game changer. We needed a little help with transitioning from public to homeschool. This is exactly what we needed. It was getting a bit too hard, even for myself, to remember what we needed to do in order to be prepared and stay on track. Hand written, ever changing, and never-where-I-needed-them-to-be-lists were failing us. I have made Routines for each school day and put them into plastic page protectors right alongside their Morning, Lunch, Supper, and Bedtime Routines. No more crazy eyed mom. No more wandering and wondering children (ages 7.5 and 9). Just productivity...so long they can find their folders! ;-) Thanks Trip clip for adding a ton more options to your website within this last year!
Jan 31, 2016 - -

Ally's Mom


My 4 yr. old daughter loves the charts. She really enjoys checking off each item. She has a morning chart, school chart, clean her room chart, a night chart. I started with a morning chart and she requested the others. At bedtime I was asking her to brush her teeth and she said,' I can't, it's not on the chart'. I made a nighttime chart right away!! I love not having to ask her to do each step. It has made bedtime easy! :) Thank you for such great products.
May 14, 2015 - -

Luke's Mom


This is the most helpful --- and user friendly site I have used in a long time. Thank you,
Sep 24, 2014
Leave a Review!
Please log in first.