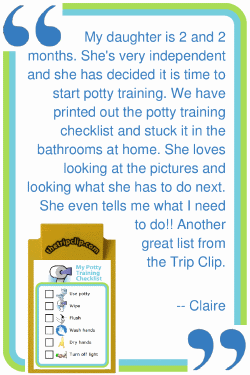 4.33 stars out of 5
5 star:
(2)
4 star:
(0)
3 star:
(1)
2 star:
(0)
1 star:
(0)
Customer Reviews (3)

Personal Care


Mar 12, 2020 - Kristine
I absolutely love these lists. Thank you for providing this service! I've made so many lists to help our 4 year old do things on his own!

Personal Care


Apr 07, 2018 - Manda Panda
Good list! Helps my kids remember important pieces like washing their hands after using the bathroom AND turning off the bathroom light! Only thing... I want them to close the door before they go and also after they leave the bathroom and I can't add a duplicate item to the list. I also can't move items up and down the list. Those two items would have earned it 5 stars.

Personal Care


Dec 07, 2015 - Claire
My daughter is 2 and 2 months. She's very independent and she has decided it is time to start potty training. We have printed out the potty training checklist and stuck it in the bathrooms at home. She loves looking at the pictures and looking what she has to do next. She even tells me what I need to do!! Another great list from the Trip Clip.
Leave a Review!
Please log in first.