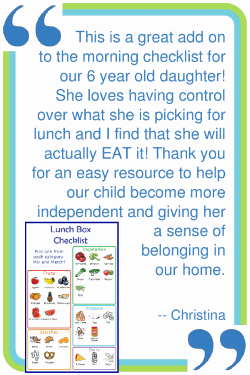 5 stars out of 5
5 star:
(2)
4 star:
(0)
3 star:
(0)
2 star:
(0)
1 star:
(0)
Customer Reviews (2)

Lunch Box Checklist


Aug 20, 2018 - Nickie
I LOVE the lunch box list. I have a visually impaired 12 year old who struggles greatly with literacy and I'm trying to incorporate more responsibilities for him and preparing his snacks for schools is a new one this year. I was ready to go hunting for clip art to get a snack list together for him and my friend posted about trip clip. I loved it even before I checked it out myself! That we can add custom items or change the picture's wording is a HUGE plus.

Lunch Box Checklist


Jun 16, 2015 - Christina
This is a great add on to the morning checklist for our 6 year old daughter! She loves having control over what she is picking for lunch and I find that she will actually EAT it! Thank you for an easy resource to help our child become more independent and giving her a sense of belonging in our home.
Leave a Review!
Please log in first.