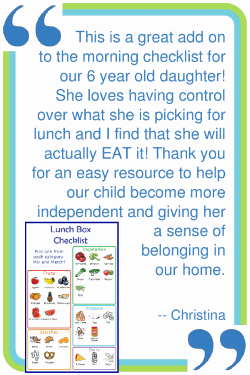 5 stars out of 5
5 star:
(1)
4 star:
(0)
3 star:
(0)
2 star:
(0)
1 star:
(0)
Customer Reviews (1)
- -Christina
This is a great add on to the morning checklist for our 6 year old daughter! She loves having control over what she is picking for lunch and I find that she will actually EAT it! Thank you for an easy resource to help our child become more independent and giving her a sense of belonging in our home.
Jun 16, 2015
Leave a Review!
Please log in first.