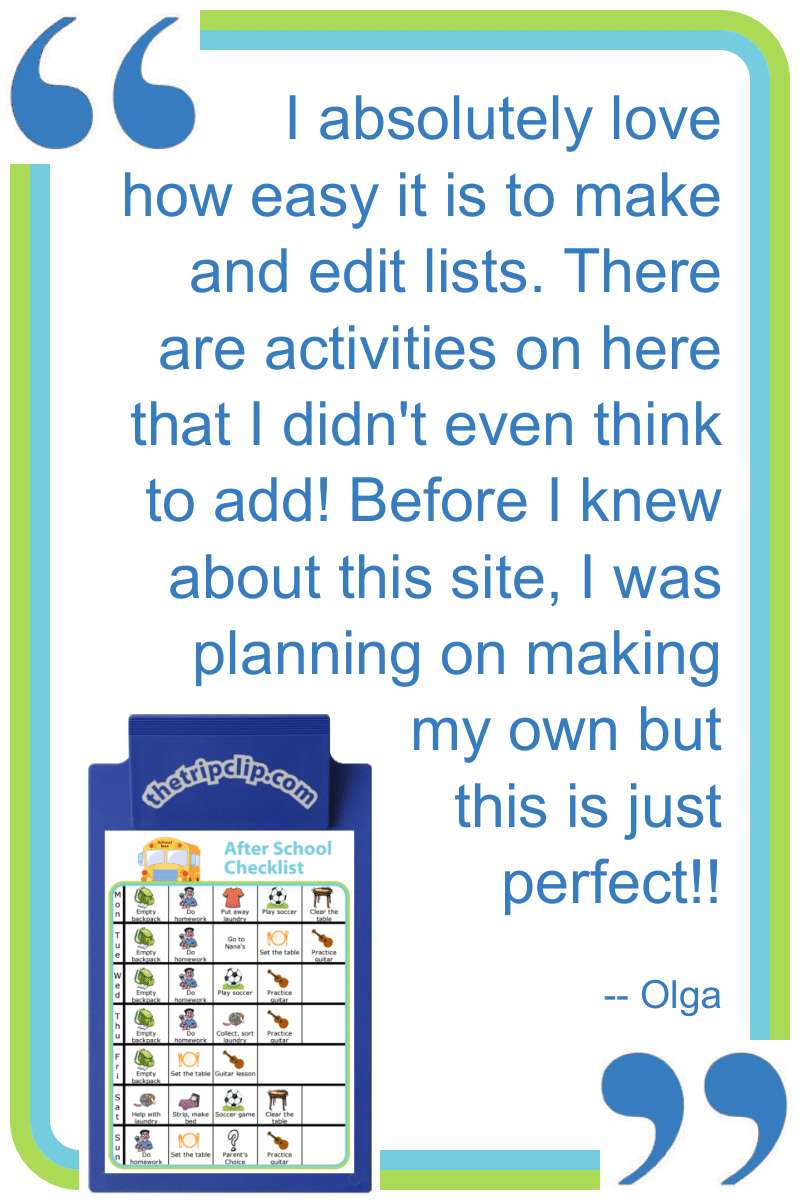 4.66 stars out of 5
5 star:
(23)
4 star:
(3)
3 star:
(2)
2 star:
(1)
1 star:
(0)
Customer Reviews (29)

After School Checklist


Sep 13, 2020 - Anonymous
Great versatile printable charts to keep my kids on task! Large variety of clip art to choose from.

After School Checklist


Sep 25, 2019 - Anonymous


After School Checklist


Mar 10, 2019 - Anonymous
Thank you so much for creating this resource! I've been trying to find a resource like this for my kids (one who is just learning to read) to keep them on task. I love that you have a huge library of clipart and the ability to rename the pictures. I also love that you are so responsive. I emailed you a request and you personally replied almost immediately letting me know that you would look for a graphic to meet my particular needs and how to find out when it was available. That is AMAZING customer service!!

After School Checklist


Nov 15, 2017 - Gen
Thank you for organizing this family! We love it!

Chores & Checklists


Sep 11, 2016 - Anonymous
Great tool for young kids and/or those with ADHD (or similar). LOVE that the pictures can be renamed. Also love that you can add your own activity (though being able to add own picture would make it even better). Well thought out, easy to use. Thanks!

Chores & Checklists


Sep 08, 2016 - Anonymous


Chores & Checklists


Aug 31, 2016 - ModernPioneer
My 3 boys need uncluttered visual charts but also need to work on reading skills--this has both!
Also, I wanted my Kindergartener to follow the same routine as his big brothers instead of overflowing my fridge with multiple charts.
One of my boys has low executive functioning and relies heavily on charts to work through his day, but other websites were always lacking in options--this saves me from hand making checklists! Amazing!


Chores & Checklists


Aug 29, 2016 - Anonymous


Chores & Checklists


Jan 24, 2016 - Super Awesome Happy home!
I have 4 children and a few of them struggle with staying on task. This stops the constant nagging from me. I find the visual stimulus engages participation and allowing me to edit the words has given me full flexibility over this easy to use list and website as a whole.
I am a customer from Australia and found the delivery very smooth.
We also love the checklist for packing when we go away, it saves me time and sanity!
Thank you for making this tool so very affordable as its worth a hounded times more due to the features mentioned already.
One addition i would like to see is a reward path/chart.

Oh! The workbooks and ability to add an activity to the blank page is brilliant.


Chores & Checklists


Jan 22, 2016 - Bee
I was looking for something like this and spent hours to find not really fitting solutions on the internet. I am very happy to have found this website now. I threw away all the other lists. Finally everything fits. Bought the whole bundle. Thanks a lot!

Chores & Checklists


Jan 05, 2016 - Charity
I search all over the internet and finally found this wonderful website!! It has been a blessing to our family!! I homeschool our three children and needed a chore/school picture checklist to keep myself and the children on task and motivated. It has helped me keep the house clean and organized! We have even made a magnetic game chart to go along with the checklists. I have three checklist for each child; morning, afternoon, and evening. Our checklist have two columns on each page. They contain all the chores and school subjects to complete on the three charts in order that they need to complete them. The children get a point for each column on the page they complete. If they get their chores or school checklist done first they get a extra point! If they do there checklist items the first time I ask, with a happy heart, they get another point. If they fight or argue with their sibling they get a point taken away.

Chores & Checklists


Dec 07, 2015 - Anonymous


Chores & Checklists


Jun 26, 2015 - Anonymous


Chores & Checklists


Mar 19, 2015 - Catherine
We have definitely been enjoying, and reaping the benefits of, our morning routines and after school routines. My son actually wakes early so he can begin checking off his list! With three children off to school/daycare in the mornings it has really helped immensely. Our children leave for school with a feeling of accomplishment before they even start their day, and I am less stressed when not having to repeat myself endlessly.

I can't say enough about how easy they are to customize to each child, and the pictures are such that our 3 year old was 'reading' like a pro. Anyone with a child who loves routine or who really needs to know what is expected of them will definitely benefit from these lists.

Chores & Checklists


Mar 19, 2015 - Jenn
I love these lists!!! This is exactly what I have been looking for. Something that I can customize for all of our ever changing situations. The games were just an added bonus :)

Chores & Checklists


Sep 11, 2014 - Anonymous


Chores & Checklists


Apr 26, 2014 - Joanna
LOVE THIS! My kids now have morning and evening checklists to help them remember the stuff that's hard for them (my daughter never remembers to throw her pull-up in the trash, and none of us remembered to have pick out clothes for the next day).

They really enjoy checking off all the items on the list! What a great way to help them do what they need to do. I love that you can edit the text that goes with the picture to make it work for what you want.

My little girl (age 4) doesn't read, but she remembers what each picture means after we explained it to her--they are pretty clear.

I also printed a weekend chore list--we haven't tried that one yet. Keeping my fingers crossed!


Chores & Checklists


Oct 20, 2013 - Jenny
This is great for the ADHD Parent!... It's very helpful so my daughter does not fall into the same trap. I want her to have direction. Now while I go through my 'grown-up' checklist she is very proud to have her own checklist. She also feels a great sense of accomplishment. Very, very happy with these tools. Try it, it can't hurt only help, very useful!

Chores & Checklists


Sep 24, 2013 - Anonymous
Very helpful with organizing school schedule and activities for young children.

Chores & Checklists


Sep 09, 2013 - Anonymous


Chores & Checklists


Sep 03, 2013 - Anonymous
I am using this with my ADHD children and it is saving our sanity (and teaching them organization)

Chores & Checklists


Aug 15, 2013 - Anonymous


Chores & Checklists


Jul 22, 2013 - Olga
I absolutely love how easy it is to make and edit lists. There are activities on here that I didn't even think to add! Before I knew about this site, I was planning on making my own but this is just perfect!!

Chores & Checklists


May 30, 2013 - CKC
I have created lists like this before using clip art and word docs. But this makes it SO easy. Worth the money, if only just because this saves me the time of doing it myself! Can't wait to try other activities. Thanks!

Chores & Checklists


Mar 27, 2013 - Anonymous


Chores & Checklists


Mar 28, 2012 - Anonymous


Chores & Checklists


Mar 09, 2012 - Alissa
I really like this idea but I wish it was a little more flexible so you could rename the pictures. Otherwise it's great.

Chores & Checklists


Mar 09, 2012 - Mommy2rr
I use these charts with my 2 year old & 5 year old. It's great because I can customize it to their age.

Chores & Checklists


Feb 07, 2012 - N Lacey
We have been using the checklists for 2 years and it works perfectly. We (or should I say they) are visual learners and seeing the pictures works much better than me shouting. I'm going to update their lists now that they have developed skills to complete more tasks. Thanks for empowering parents with this great product!
Leave a Review!
Please log in first.