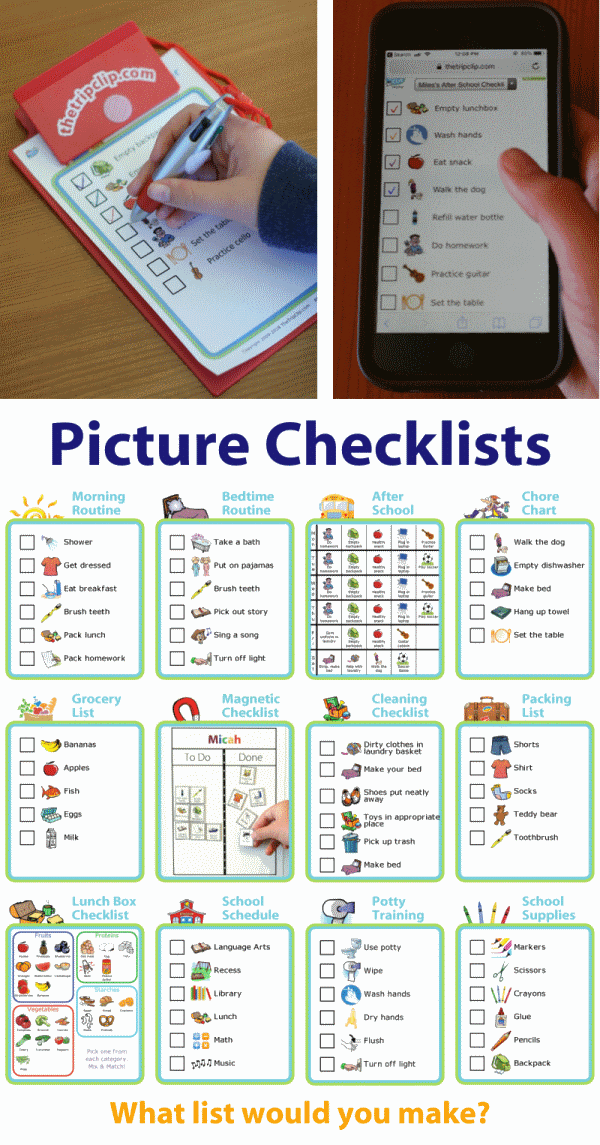 4.74 stars out of 5
5 star:
(97)
4 star:
(6)
3 star:
(2)
2 star:
(1)
1 star:
(4)
Customer Reviews (110)

See Blog Reviews

All Lists & Custom List


Oct 11, 2021 - Mary P
I love tripclip, and have been using these charts for a few years. So nice for my little ones to have a visual picture of each of their daily tasks

All Lists & Custom List


Aug 17, 2021 - CoolMama5
I've been a member for years - found this after Mrs. Riley's PECS icons website shut down and I was looking for visuals to help my ASD son. Turned out that The Trip Clip not only met that need, but is still used by our family of 7 for visual grocery lists (so that the young or dyslexic kids can help, too), packing lists (we travel as a family for work), chore lists, and more.

Picture Checklists


Sep 08, 2020 - Aisha
I have a son with autism and I found this website to be a lifesaver to help me follow his BIP (Behavior Intervention Plan) and his IEP (Individualized Education Program) before and during school closures.

Now that I am servicing dyslexia students virtually, this checklists and schedules will help to play an important role of keeping my students on track.


All Lists & Custom List


Jul 30, 2020 - Tara
I love this site! I use the packing list for camping regularly. Both of my kids love the pictures and it makes packing simple. :)

Picture Checklists


Jul 22, 2020 - Joanna
My special needs son is doing great with Trip Clip! I used the lists to make a personalized notebook with reusable lists. He now earns his allowance by completing chores and is learning how to clean his room well. We LOVE the lifetime availability of all the lists! I may even use them to keep the rest of the family organized as well.

All Lists & Custom List


Jun 14, 2020 - Anonymous
My family and I love Trip Clip! Such a wonderful tool. I tried making my own after purchasing Trip Clip (as I was experimenting what would work best) but my children did not like my creation LOL - it's all good.

I have 3 kids and I highly recommend supporting Trip Clip.

Picture Checklists


May 08, 2020 - Diana
I have 3 children with special needs and I have the all access lifetime membership. I love the Trip Clip I make custom lists for each of my children for daily activities, hygiene, and school work. These lists help my day run smoothly and avoid meltdowns.

Picture Checklists


Mar 10, 2020 - Nicole S
Love these charts, they are simple to create and fun for the kids to read and understand. I have children who are reading and one who isnt yet and between the pictures and words it is great! Learning and organization all on one!
Less reminding my kids what needs to be done. Ive made a morning routine, after school routine and bed time routine so far. Working on a chore chart now and plan to keep making lists till my hearts contents :) I feel it is great value for 15 bucks and unlimited use! Looking forwards to making good use of this site and seeing what else I can create with it!

Picture Checklists


Nov 13, 2019 - Anonymous
I absolutely love the whole bundle of activities. I have 3 children ranging in ages from 3-9. There's something for everyone including myself! I'm excited that I didn't need to download anything extra to customize my checklists. Awesome product I know we will continue to use again and again. Great value!!!

Picture Checklists


Sep 06, 2019 - Melissa
My 6 year old daughter LOVED the visual shopping list. She asked me to make one for her every time we go shopping and didn't want our shopping trip to be over. I love that it kept her engaged, gave her a sense of pride and accomplishment AND reinforced reading skills. Thank you!!
I would love to see some outdoor and indoor scavenger hunt options.

All Lists & Custom List


Jul 10, 2019 - Brenda
The activities are great, my family specially uses the lists. They love to customize their own.
The most important thing for me is that I was able to change the text to Hebrew. We live in Israel and this is the only website that allowed me to write down what I needed so that my kids could read it. Molly also helped me to customize the weekly schedule so that I could use it to start the week on Sundays, as is done around here.
Molly is super responsive and the customer service is great.

All Lists & Custom List


Jun 21, 2019 - Erica
I just love this site! I have created so many great lists for my daughter and it's quick and easy. There was a glitch with the site the other day and I reached out for help, honestly thinking I would never get a reply! But within the hour I had already heard back from Molly with a personal message saying they were working on it. She followed up once it was fixed and made sure that everything was working for me! What great service.

Picture Checklists


Apr 12, 2018 - Sharice
Thanks for offering some great options to help kids or in my case a special needs adult child. I like that I can print what's needed do help him to complete chores and activities that will help him be independent.

All Lists & Custom List


Jan 12, 2018 - LeAnn
I have truly appreciated this site and all of the items it offers. I love the checklists since my children seem to struggle to remember what to do in the mornings, and at bedtime even though it is the same everyday. Now I don't need to harp at them, they just grab their lists and check them off.
I also appreciate Molly's prompt response to my feedback and email. She was open to my suggestions which was awesome.
I am very happy with this!

Individual Activities

Custom List


Nov 10, 2021 - Amy
The trip clip is a great tool that can be used in so many ways. I found it years ago when my children were young.

Now, I use it for my students in elementary school. It provides excellent visuals and is easy to individualize.

When I needed some specific visuals, they were able to create them! The customer service is unmatched! Thank you!

Grocery List


Feb 06, 2021 - Anonymous
Love love love this grocery list. I love the fact that you can pick and choose different ones. This has made grocery shopping for my 2 year old such an exciting event he wants to do it everyday.

After School Checklist


Sep 13, 2020 - Anonymous
Great versatile printable charts to keep my kids on task! Large variety of clip art to choose from.

Custom List


Aug 29, 2020 - Anonymous
really great for the kids. i have 5 children

Custom List


Aug 19, 2020 - Roxanne
I have four kids and they are all on different school schedules and I have to keep them all busy learning while they are off track and their siblings are distance learning.

Bedtime Routine


Jul 23, 2020 - Jenbug
Molly has been great to work with. I emailed her about adding some pictures that I needed for my daughter's self care. She answered back and got those pics added for me.

All Activities


Jun 25, 2020 - Anika
I cannot say enough about how much I LOVE Trip Clip!!! Printing off and posting morning and evening routines on the wall has given my son responsibility and taken the nagging out of that time. I love how each picture description can be edited to fit what my family needs. The travel activities have made traveling and airplane time pass quickly. Learning activities have made it quick for me to put together some summer review sheets. The best investment for the price I have ever made!

Morning Routine


May 15, 2020 - Anonymous


Custom List


Apr 22, 2020 - Andrea
I have always made list and labels for my children (and students, when I taught). I would make these and they were very time consuming putting them in a list form. This had made it super easy for my kids to do their morning and bedtime routines and it is easy for me to customize each one quickly. Also, Molly (owner) has been super responsive to my inquiries about the product and my suggestions. Wonderful customer service and product.

Custom List


Apr 13, 2020 - Anonymous
So simple to use and keeps our family organized especially with 3 kids at home being home schooled :)

Cleaning Checklists


Mar 27, 2020 - Andrea
In response to Stephanie's low score. I emailed Molly and found out that if you click the bed (on computer only, not phone) a selection of top pictures show up (kitchen, sofa, toilet, toy box, and chore person). It does work. The rest of the list is great. Now my kids know the steps for cleaning the bathroom and soon to be other areas of the house. Simple and easy to use.

Chore Chart


Mar 27, 2020 - Love it!
I was about to spend hours looking for my own clip art to do something like this when I stumbled upon the website. This has saved me hours of work and is very user friendly. There was one she didn't have and I emailed a suggestion for it. Molly responded back to me quickly. This is helping a ton during the quarantine!

Personal Care


Mar 12, 2020 - Kristine
I absolutely love these lists. Thank you for providing this service! I've made so many lists to help our 4 year old do things on his own!

School Schedule


Jan 13, 2020 - thejoysofraisingboys
I personally LOVE The Trip Clip site! My children have ASD and while they can read, the pictures provided are just way easier for them to see on their daily schedule.
So far, I've made and printed out our homeschool schedule, activities, chores, etc. The options really are endless! And if you spend the $15 you get access for life! That's such a great deal. My favorite has been custom-making our morning/evening routines, which I post on the hallway wall. My boys need the extra reminders so all they have to do is walk out of their bedrooms and immediately know what to do, depending on the time of day. Thanks Molly for all your hard work and always updating/adding new clips that help my family! :)

Custom List


Jan 02, 2020 - retromamma
I think the basic lists are great, but I wanted a little more customization so I could gear each one to different kids' ages. I still haven't used up all my paid activities, but feel I got my money's worth already. In fact, Molly replied to me via email super quick when I was looking for a specific icon. Money and space saving tip: print 2 lists to a page, trim extra paper from the edge, affix a magnet (for fridge use), get laminated and cut the two lists apart. I should post a pic to pinterest where we keep our various chore and routine lists. The one I made to earn electronics time has 100% turn kids behavior around. They are self motivated now and jump to complete the tasks. I think it helps them SEE how they contribute and reinforce their role as a member of the family. I may even add 'make mom coffee' as a funny version to swap out on April Fool's day (I have all kinds of ideas, like 'steal socks' and 'bark at cars' for the dog's list).

Morning Routine


Nov 22, 2019 - Kasie
Making lists for my children is so easy with The Trip Clip! I was really happy to see that I could use the mobile option. I use an iPad for my kids to mark off on their lists and they carry it around as they complete their tasks. So far it has been a lifesaver for me!! My kids are empowered to get themselves ready for school, finish chores after school, and get ready for bed. The website also has great printouts for creating your own activity books! I%u2019m excited to make some for our upcoming trip!

After School Checklist


Sep 25, 2019 - Anonymous


Chore Chart


Aug 29, 2019 - Special Needs
My son is autistic. In order to give him a visual list of items to accomplish, I use thetripclip all the time.

This is absolutely the best item I have found to quickly create a chore list or visual schedule.

Thank you!!!

Chore Chart


Jul 09, 2019 - graphicDinTX
I am a graphic designer, and have been for perfecting my children's chore charts over the years. I look for the perfect graphic and arrange it. But it takes hours to find the perfect graphic. Somehow thanks to Google, I stumbled upon this website with all the graphics for chores. I couldn't believe my eyes. They had nearly everything I wanted. The one that I wanted, I sent a message in asking for it, and I got a quick reply saying that they will add it on the next go around. It was a fast response. But most importantly, I was able to have my 10-year-old choose and print out the chore chart for this summer. I just outsourced my graphic design needs to my child, LOL, thanks to this website. Four stars, because I wanted to be able to change the graphic at the top of the chart of the lady vacuuming. I haven't figured out how to change that out yet, And I also want to be able to remove the checkboxes. I have one child who feels overwhelmed with checkboxes. But I am so happy with finding this. I will be recommending it immediately on my social media.

One Activity


Jun 27, 2019 - Anonymous


All Activities


May 22, 2019 - Megan F
This is such a big help for my family! I love that it is so customizable!

Bedtime Routine


May 17, 2019 - Karsten Krambs
Great Idea, but its not working.
My list keep getting deleted etc, page hangs.

PS:
Im a software designer - this UX is bad.

Morning Routine


May 15, 2019 - Milia
The Trip Clip is one of the most helpful resources I've ever used for my children!! Molly has put on here such helpful images for chart-making. I actually use this for myself as a mom so I can just go down my list of pictures and check things off. She also has been SUPER-helpful in accommodating my requests for some odd things. She got back to me every time within 24 hours or less, which wasn't necessary but extremely appreciated. I HIGHLY recommend this website and have personally been using it for a few years now! Thank you so much, Molly :-) !!

After School Checklist


Mar 10, 2019 - Anonymous
Thank you so much for creating this resource! I've been trying to find a resource like this for my kids (one who is just learning to read) to keep them on task. I love that you have a huge library of clipart and the ability to rename the pictures. I also love that you are so responsive. I emailed you a request and you personally replied almost immediately letting me know that you would look for a graphic to meet my particular needs and how to find out when it was available. That is AMAZING customer service!!

Custom List


Mar 08, 2019 - Stephanie
Wanted to do an updated review on this. After posting my 2 star review Molly from TripClip emailed me to discuss my concerns. Never once in the email did she backlash or speak negatively regarding my review but instead took it all as 100% constructive criticism. She genuinely cares about her clients and her work. She laid out options to try and help rectify how I felt which I thought was awesome. I still wish I would have only gotten the custom list and not wasted my activity purchases on other lists, her customer service is great and felt that a updated review was needed.

Morning Routine


Mar 06, 2019 - Anonymous
Love this!! One comment would be, I would love to be able to make a reward list. I know I probably could customize to make that happen but I wouldn't need the boxes next to each reward. It would be more like 3 chores = ice cream sunday 10 chores = trip to the museum. Something like that!

Cleaning Checklists


Mar 05, 2019 - Stephanie
You're better off getting the custom list. I picked this one thinking it would have the option to change the bed to the cleaning chores guy but it doesn't. Waste of an item.

Custom List


Feb 08, 2019 - Alexa
I have been looking for a website like The Trip Clip that is user friendly with many options/tools - so happy to have found this one! I love all the different charts you can quickly put together or easily customize your own, that includes awesome clipart. You can change the wording on the clipart too, which I haven't found on any other site so far. Molly has great customer service and is quick to help. I highly recommend this website!

Custom List


Jan 29, 2019 - Anonymous


Chore Chart


Jan 18, 2019 - Anonymous
Love this site! I've got an early reader and a pre-reader at home, so visuals are so important for us. The kids love their weekly responsibility charts and have an easy time understanding what they need to do.

Cleaning Checklists


Jan 12, 2019 - Anonymous


Custom List


Dec 23, 2018 - Alicia G
So easy to use to make a cool picture routine for our days!! I'm hoping to use these to eliminate a lot of the 'what am I supposed to do?' questions plus keep our homeschool days on track!

Morning Routine


Nov 15, 2018 - Alex
Great tool for little ones. Very easy to use and the pictures make it easy for the kids to understand. Thanks!

Morning Routine


Nov 15, 2018 - Anonymous


Custom List


Oct 26, 2018 - Uliana Scott
Great website ! The lists are so easy to use and if you can't find an item you are looking for , email to Molly and she adds it pretty quick :)
Downloads in PDF and a very good quality! Great $5 spent :)

Custom List


Oct 02, 2018 - Sarah
Great list options, easy to create, and really helpful customer support when I had issues.

Chore Chart


Sep 16, 2018 - Summer
I've been breaking my head for awhile now trying to design chore charts and moring reminders for my 3 boys. It's a lot of work! But I stumbled upon Trip Clip and got everything done in less than an hour! And they came out so nice and formatted. The next day I had some minor changes and it was great being able to log back in and make some tiny changes. Plus, Molly has been responsive regarding one chore we could not find an icon for: taking out the compost. Even though you can edit and changing existing icons (what a cool feature!), she messaged me right away saying she would look into. Overall, very pleased with this cool service. Worth every penny.

Chore Chart


Sep 10, 2018 - Mick
I am stoked with the Chore chart

Lunch Box Checklist


Aug 20, 2018 - Nickie
I LOVE the lunch box list. I have a visually impaired 12 year old who struggles greatly with literacy and I'm trying to incorporate more responsibilities for him and preparing his snacks for schools is a new one this year. I was ready to go hunting for clip art to get a snack list together for him and my friend posted about trip clip. I loved it even before I checked it out myself! That we can add custom items or change the picture's wording is a HUGE plus.

Chore Chart


Aug 20, 2018 - Jeannie
I absolutely love these charts!! I have them printed and put them inside picture frames for my children. They use dry erase markers to check off their daily chores and actually look forward to having everything checked off! The predefined pictures are great and the option to tweak the wording or change add your own is phenomenal!! We love our charts!!

To Do / Done Board


Aug 12, 2018 - Anonymous


Custom List


Jul 18, 2018 - Anonymous


Chore Chart


Jul 08, 2018 - Anonymous


Morning Routine


Jul 06, 2018 - Sel
Please have more templates to choose.

Also, please have features on the site to allow parents to share the template that worked for them effectively. It can help other parents as well.

Morning Routine


Jun 30, 2018 - Anonymous


All Activities


May 06, 2018 - Anonymous


Personal Care


Apr 07, 2018 - Manda Panda
Good list! Helps my kids remember important pieces like washing their hands after using the bathroom AND turning off the bathroom light! Only thing... I want them to close the door before they go and also after they leave the bathroom and I can't add a duplicate item to the list. I also can't move items up and down the list. Those two items would have earned it 5 stars.

Chore Chart


Mar 13, 2018 - Anonymous


All Activities


Feb 28, 2018 - Dawn
I have been using these activities for a few years now and absolutely love them!!! There is just the right amount of selection in images, and activities.

I started by using the grocery list often and my young children really enjoyed shopping with their lists. Then the chore charts have been used weekly and are soo easy to understand. Now I just printed off pages and pages of activities for our upcoming road trip. They will be excited to try some new activities like suduko, math and crosswords.

This website is very user friendly and soo worth the money. I tell all my friends with children about it and have plans to purchase some for gifts in the near future.

Thank you for all the time you have saved me and fun you have brought my children!!

Morning Routine


Feb 25, 2018 - Anonymous


Custom List


Jan 22, 2018 - Jo
These lists are wonderful! I just discovered the 'You can have screen time after you:' list and modified it for my kids. No more begging for screen time until after work and non-screen play are done!

Cleaning Checklists


Dec 28, 2017 - Lktollef
I love these simple steps and I agree with Molly how nice it is to have a beginning and end. After seeing this and being able to customize for only 14.95 was well worth it. This will allow me to change the charts as things around our home change. Molly also provided amazing customer service and helped me right away with my issues and went beyond the mark. Love this site and the ideas Molly has. Thank you for sharing!!!

All Activities


Dec 09, 2017 - Msjudge8
I just started using TripClip this summer and the have so many ideas t use for my children.

Thank you for organizing this all in one place to organize me and my family.

After School Checklist


Nov 15, 2017 - Gen
Thank you for organizing this family! We love it!

Custom List


Nov 10, 2017 - Rachel
I have been using Trip Clip for my family for over a year now. I am so glad that I found it. It has made making chore charts, trip charts, homeschool charts, and many other charts I won't bore you with so much easier. LOL My children look for the lists and remind me if I forget to put their daily charts out. I have 4 kids and it keeps all of us in line.

Molly is quick to reply when you contact her. As long as this is available I will be using it. I have also shared this with all my friends.

If there was a way to share pics of how I use some of my charts I would. Thank you so much for this wonderful organizational tool!!!

Morning Routine


Nov 03, 2017 - Anonymous


Grocery List


Oct 20, 2017 - Melissa Martin
I made my son a grocery list to check off at the store, he brought his little shopping cart and really enjoyed the experience. Thank you trip clip!

Morning Routine


Sep 06, 2017 - Christy
I was able to create a perfect little checklist for my non reader to help him get ready for preschool with out me being a nag.

Custom List


Jun 07, 2017 - Christine
TERRIBLE WASTE OF $$$$$!!!!

The lists won't save correctly, do not load smoothly, and just are generally a pain. Should have saved the $5 and created the list in word.

The list it is printing is not the list that was most recently updated. Super annoying!!!

Morning Routine


Apr 25, 2017 - Heidi
This is so simple to use. It has given my children the freedom to know what is expected of them without me designing something complicated from scratch!

Bedtime Routine


Mar 01, 2017 - anonymous
Great Idea - terrible execution. Not user friendly at all.

Custom List


Jul 02, 2016 - Robin
I've been using TripClip for years to make visual schedules for my son with special needs. Besides the usual Morning Routine, Bedtime Routine, etc I've used it for things like 'Steps to Using the Bathroom.'

I like this activity with a wide variety of options because sometimes I need unusual schedules. Today I used it to make a 'What to Do When Mama Has a Nosebleed' sheet. I'm on blood thinners and had a nosebleed that turned into a hemorrhage a week ago and I've been bleeding on and off since then and had to go back to the doctor (though thankfully not the hospital!) The kids and I have been anxious about being alone and my husband is going out of town.

So I made a visual schedule of what they should do (call Daddy if Mama hasn't already, go potty, get dressed, put on shoes, get tablet from charger, be ready to go to doctor's office). We're all feeling a lot better now!

Packing List


Mar 28, 2016 - Mel Bergeron
I have a daughter with special needs (Down Syndrome) so I am finding all these just awesome! I have the clothing labels on her drawers so she knows where her clothes go as she loves to help putting them away. We also have a Morning routine chart and an after school chart. She automatically goes to them now to see where she is up to and whats next! It has made a huge difference already, thank you!!

School Schedule


Jan 31, 2016 - Homeschool mom of 2 in MT
This has been our game changer. We needed a little help with transitioning from public to homeschool. This is exactly what we needed. It was getting a bit too hard, even for myself, to remember what we needed to do in order to be prepared and stay on track. Hand written, ever changing, and never-where-I-needed-them-to-be-lists were failing us. I have made Routines for each school day and put them into plastic page protectors right alongside their Morning, Lunch, Supper, and Bedtime Routines. No more crazy eyed mom. No more wandering and wondering children (ages 7.5 and 9). Just productivity...so long they can find their folders! ;-) Thanks Trip clip for adding a ton more options to your website within this last year!

Personal Care


Dec 07, 2015 - Claire
My daughter is 2 and 2 months. She's very independent and she has decided it is time to start potty training. We have printed out the potty training checklist and stuck it in the bathrooms at home. She loves looking at the pictures and looking what she has to do next. She even tells me what I need to do!! Another great list from the Trip Clip.

Grocery List


Jun 22, 2015 - Anonymous
The grocery list is perfect for my 3.5 year old. He LOVES it. I look forward to using other activities on car trips this summer. The creator is not only full of great ideas, she is excellent at 'customer service'. She replies to questions immediately and is very helpful.

Lunch Box Checklist


Jun 16, 2015 - Christina
This is a great add on to the morning checklist for our 6 year old daughter! She loves having control over what she is picking for lunch and I find that she will actually EAT it! Thank you for an easy resource to help our child become more independent and giving her a sense of belonging in our home.

School Schedule


May 14, 2015 - Ally's Mom
My 4 yr. old daughter loves the charts. She really enjoys checking off each item. She has a morning chart, school chart, clean her room chart, a night chart. I started with a morning chart and she requested the others. At bedtime I was asking her to brush her teeth and she said,' I can't, it's not on the chart'. I made a nighttime chart right away!! I love not having to ask her to do each step. It has made bedtime easy! :) Thank you for such great products.

Grocery List


Apr 06, 2015 - Kathryn
This is AMAZING!! I'm going to use this for my kindergarten grocery store!

Chore Chart


Mar 17, 2015 - Great tool for chores
For several weeks now, I've created a chore chart for my 4 year old and 6 year old daughters. It includes making bed in the morning, picking up toys in the evening and staying in their bed when we put them to sleep at night. Each day they, if they accomplish all 3 three chores, they can pick a small treat (hershey kiss). There has been one day when they did not earn their treat due to not completing one of the chores. My husband I and stuck to the plan and our girls were not rewarded that day. Since that day, we have had great success. They are motivated to complete their chores and excited and proud when they do so. Great tool in our home!

To Do / Done Board


Feb 26, 2015 - Anonymous
My kids love being able to move each magnet over and see the progress they're making through their list each morning.

School Schedule


Sep 24, 2014 - Luke's Mom
This is the most helpful --- and user friendly site I have used in a long time. Thank you,

Bedtime Routine


May 06, 2014 - Special Mama
My husband has ADHD and our son has Tourette's/OCD/ADHD/SPD. They are both very smart but between the two of them, they never manage to get my son ready for bed while I nurse the baby. Until now! I made both a bedtime and morning routine and put them back to back in a page protector (hung from the side of a bookcase together with a dry erase marker on a string so they don't lose it). Now all I have to do is remind them to 'follow the routine' as I disappear with the baby and when I come back he's usually all ready for bed! Has made a huge difference in our household.

I've also made a 'potty routine.' My son has an OCD fear of water and between that and the ADHD, we've really struggled with potty training. I loved that I could rename the pictures so that I used the 'dust furniture' picture for 'wipe' and so forth. Having the steps with visual cues has helped immensely with the anxiety. Now I just need to convince my husband to set an alarm on his phone when I'm not around to remind my son to go and I think we'll be dry all day!

Grocery List


Apr 04, 2014 - Laura
I was interested in a picture shopping list for my almost-4-year-old boy, who happens to love checklists (mostly because I think he loves saying 'CHECK!') - and found your site and fell in love! Not only did I make a grocery list (a huge hit AND the store was so much easier for me!), but I made more checklists for our morning and bedtime routines - to make the transitions easier. I laminated them, and he uses a dry-erase marker to check each task off! He's been super excited for bedtime the last few nights! We printed a SLUG BUG for the car, and some easy mazes, and I just keep looking for more things - thanks for the fun (and functional!) site! I'm telling everyone who will listen!

Morning Routine


Mar 05, 2014 - Kacie H
This is fantastic! I love not having to ask twice about brushing hair or teeth before school. Raising responsible children just got easier!

Grocery List


Dec 12, 2013 - Claire (UK)
Dominic (3) loves helping with the shopping and up until now I've been drawing him a list. My pictures, however, are somewhat ambiguous whereas the pictures on here are great! We can now discuss before we go what we need to buy and he enjoys making his list, printing it off and taking it with him. I'm really pleased I discovered this website and have recommended it to my other mummy friends!


Custom List


Oct 24, 2013 - Anonymous


Packing List


Oct 14, 2013 - Anonymous


Grocery List


Sep 17, 2013 - Kari
What a GREAT idea! I usually dread the grocery shopping and try to get through it as quickly as possible with my 3 kids. I used the Trip Clip Grocery List for the first time yesterday and it made the trip more fun for them AND for me! Yay!

Packing List


Aug 15, 2013 - Nancy
This helps my kids so much!

Grocery List


Jul 30, 2013 - Lynn
I love this list. Its very easy to use. My kids are 4 and 2 and can easily identify all the pictures.

Grocery List


Jul 23, 2013 - Anonymous
I love the lists, my son (6) only occasionally enjoys it. He loves the thought of having a list all his own but then when we get to the store he quickly losses interest. We are starting this week with his little brother helping him with the list so I might have an update soon as to how my little one (3) enjoys it. I have used some of the other games and my eldest loves mazes and he is working on a chore/responsibility chart as well. We do one chart for each part of the day (Morning/afternoon/evening) so that he has his day segmented as to when the responsibilities need to be completed. This helps him and I can ask him to check his chart instead of having to list everything off for him each time. His responsibilities are small still but I need the help with reminding him to get them done. I am very glad I found this and I do highly recommend it to anyone who needs a little extra help keeping your kiddos on track. Only reason it is not 5 stars is because (as with all things) it is not a perfect match for my son. But I do love it and hope my little one will be even better at using it.

Packing List


Jul 07, 2013 - Bonnie
This is perfect. My three-year-old and one and a half-year-old love to 'help'. This is a perfect way to direct them to get their things on their own!

Packing List


Jun 30, 2013 - Stefanie
We love the packing list....my eldest used it last year when he was 5 and he was so proud he could pack his own clothes for our vacation! I am planning to use this again this year, also.

Grocery List


Jun 09, 2013 - Elena
Fantastic Product. Great for kids and really user friendly. Love it!

Grocery List


May 21, 2013 - Kerri
The boys (6&4) absolutely LOVED their list!! They each had a list! I only did fruit & veggies on their 1st one, but they just raced to fill bags & the cart! :) Showed it off to everyone in the store! The clerks thought it was pretty neat! And they learned how to pick 'nice' and 'ripe' fruit & veggies! :) Now if only they had the kid-sized carts! Super easy to change the labels on the items (once logged in!), so a massive high 5 from this happy mommy! :) Keep the ideas coming! Can't wait for their clipboards to arrive! And the mazes, etc will be a HUGE hit! :)

Grocery List


May 14, 2013 - Heather
So excited to use this today! This is the very reason I signed up for The Trip Clip. It's so easy to click, print and go. Very excited!

Grocery List


May 13, 2013 - Anonymous


Chore Chart


Feb 19, 2013 - Carrie
I love this list. My almost 3yr old uses it to clean the house and begs to play the list game! I have several versions saved so we can play 'clean the downstairs', 'clean the upstairs' and 'help mom get ready for dinner'. Life goes so much smoother when she is helping and not getting into other things. Thanks!

Grocery List


Feb 17, 2013 - Lauren
It's so quick to make a shopping list. I print out one for my 4 year old son, and another for my 9 year old daughter with multiple disabilities. The pictures are great.

Packing List


Jan 21, 2013 - Mari
This is BRILLIANT. I don't have many computer skills, so I tediously (and I don't enjoy drawing much) draw each packing list EACH time we travel. I draw out shopping lists. I've had a smaller version of your website brewing in my mind for a long time, and I'm so happy you've done this. My kids are only 4 and 3 and I'm not pushing them to read, so I would have been doing a LOT more drawing if I hadn't found your site.

Grocery List


Jan 07, 2013 - Bonnie
This is a perfect teaching tool for my 2-year old. We bring along her own shopping cart and she has to find and count the items on the list!

Grocery List


Dec 01, 2012 - mrsjprince
This was a great way for my son to feel like a helper at the store. It kept him occupied while we ran errands. It was easy to make and print.

Grocery List


Feb 27, 2012 - Alissa
I love how QUICKLY I can print out these lists and it's a huge hit with my kids at the store.

Grocery List


Feb 11, 2012 - Malia
What a fabulous way for kids to stay busy at the grocery store... and learn the connection between words and pictures. My little girl loves using The Trip Clip Grocery List-- and sometimes she gets so into it...that she keep playing with the list when we get home. Talk about a great activity!

Grocery List


Feb 05, 2012 - Anonymous

Leave a Review!
Please log in first.