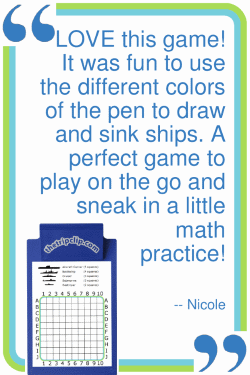 5 stars out of 5
5 star:
(2)
4 star:
(0)
3 star:
(0)
2 star:
(0)
1 star:
(0)
Customer Reviews (2)

- -

Nicole - The Activity Mom


LOVE this game! It was fun to use the different colors of the pen to draw and sink ships. A perfect game to play on the go and sneak in a little math practice!
Oct 13, 2012 - -

Marypat


Back to the roots of the battleship game, playing it on paper. Great fun during airplane flights, provided you slant your Trip Clip so you can't see your opponent's board. Better than the boxed toy version, you can play this with more people and have a three-way sea battle! Kaboom!
Feb 06, 2012
Leave a Review!
Please log in first.