Lifetime Access
Once you buy any Trip Clip Activity, you'll have lifetime access to make your own versions of it on this website.
See Purchase Options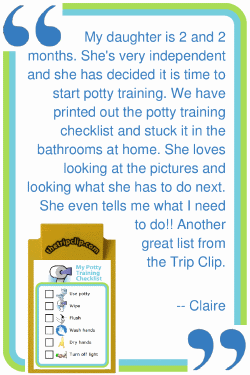 Potty training can be such a stressful thing for parents - especially if it's your first time through it! These checklists can really help you and your kids figure this out. 
A picture checklist is a great way to help your little one remember all the important steps while they learn this new, independent skill. Teaching proper hygiene right from the start can make a huge difference with instilling these good habits. You may also find the list itself is motivating to your child!
Knowing when and how to start potty training is a lot trickier. You can use these 9 steps, and also find more detailed information about how to know when you're child is ready, and how to potty train successfully, in this great article from Parents.com.